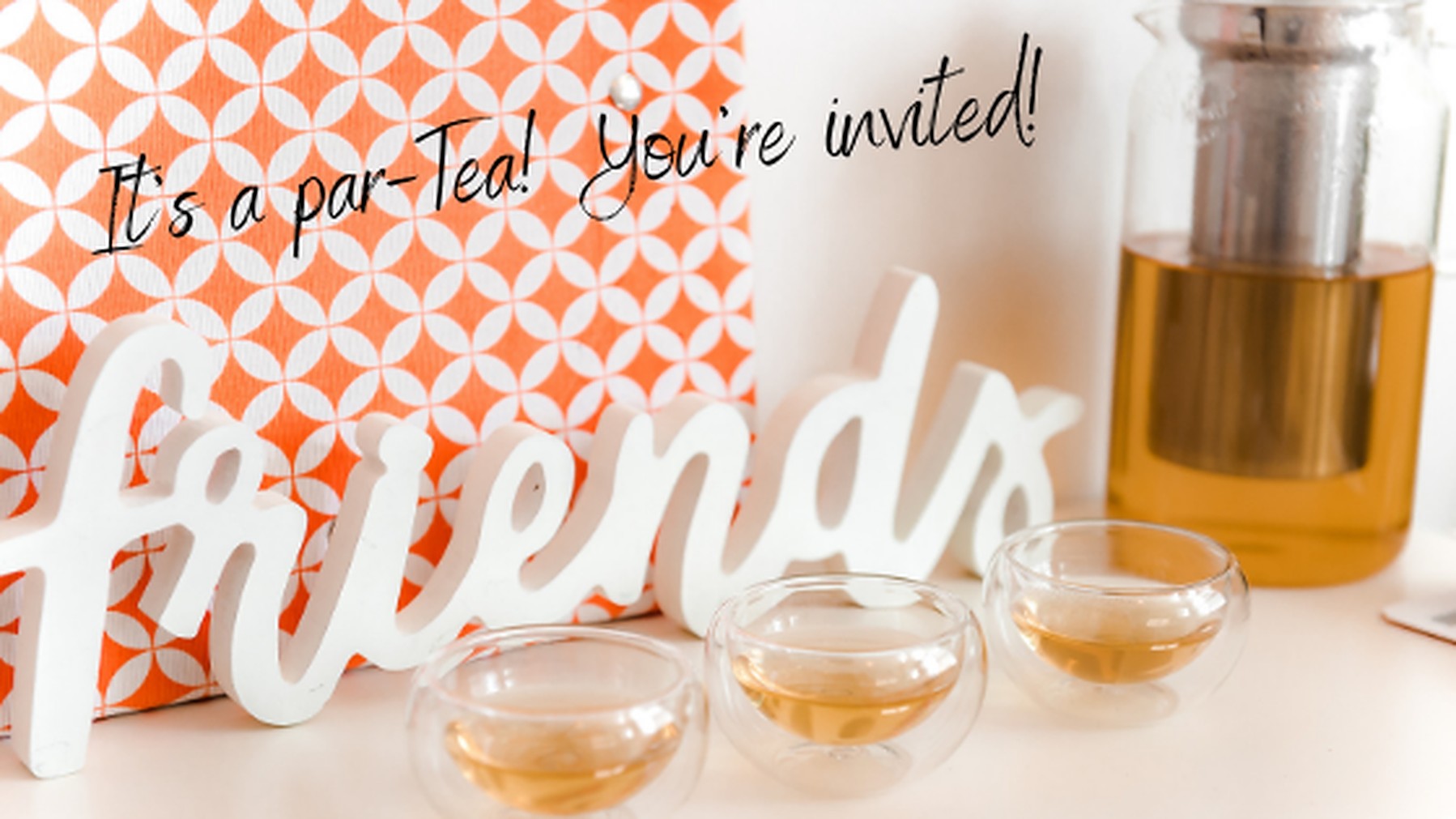 tea party prep tips: what's on the menu?
Does planning a tea party sound quite exhausting?
Well, news flash! It doesn't have to be! In fact, it can be really simple especially if you organize accordingly.
Come on in, join us and let's have a par-Tea! Let's help you make the management and setup pretty easy for everyone involved! 😉

Whether you wish for your tea party to be modest, minimalistic and simple or you prefer for it to be a little elaborate for a bigger crowd of friends and family, these tips can come in handy. Plus, we've got your potential menu covered. We've listed teas and food pairings which you can freely pick from when collating and finalizing what you'll cater at your tea party. Still sounds daunting? Nah, it's exciting now, isn't it?
teas to serve

Teas. The star of the party.
The citrusy earl grey tea shouldn't be overlooked when listing the teas to serve. Being one of the most widely known and consumed black tea, it essentially pairs well with any of the sweets, savories, and other tea party food groups served.

Remember to always include at least one caffeine-free herbal tea. Chamomile tea makes for a good choice for this and it superbly goes well with fruits and other sweet confections on the menu. Peppermint and spearmint teas are also great decaf infusions.

Prepare the dreamy rose congou and lavender teas for some romantic and Victorian feel. Their beautiful aroma shall naturally fill the room, too.
tea pairings: scones, cakes, and finger sandwiches

Scones topped with cream, clotted cream or lemon curd, among others, are some of the most popular on basically any tea party menu. They're practically a staple.
For an approach that's closer to minimalist, you can prepare your scones plain. They may include the classically light and cake-like buttermilk scones, or the naturally crumbly cinnamon scones. You may also opt for some cheddar mustard scones. Otherwise, you can serve more savory, more intricately made and more flavorsome scones. You can go for raspberry, strawberry, or cranberry scones with rich lemon glaze, or perhaps, potato scones sprinkled with pumpkin pie spices and nuts.

Let's not forget to throw in some ham scones to plunge in a dip that's packed with lemon, and herbs like mint leaves and fresh dill.
On the tray by the other side of the table come the tea sandwiches which are better known as the finger sandwiches.
But first, it is important to note that the intensity of the flavors of the finger sandwiches you're serving are at par with that of the scones served and with that of the rest of what else are on your tea party menu. This will define the tasteful tea party experience you and your guests are to have.
Now, off to the basics of finger sandwiches. Make sure they're cut bite-sized – the reason they're called the way they are. They come in crustless, too. And they're even nicer when cut uniformly and evenly. Cookie cutters can lend a hand to do the trick.

The three essentials are cucumber, smoked salmon and egg salad sandwiches. Bear in mind to include them in your afternoon tea menu. They're the more indispensable, principal ones on the list. Definitely, classic. And classy. It's like saying you do know your afternoon tea by heart.
Come the fancier ones. Take your pick amongst spicy avocado, turkey, the bacon-lettuce-tomato / tomato-mozzarella-basil combos, prosciutto rose, or duck rillette with pickled onions.

Oh, and, remember to make these already delightful tea sandwiches even more attractive with the way you present them. 😉
tea pairings: sweets and other savories

Aside from saccharine scones and sweets-filled tea sandwiches, vanilla cream- and chocolate-flavored cakes and cupcakes are also in order.



Raw fruits, edible flowers and herbs, light crackers and nuts should also be an amazing addition to brighten up your tea party even better.

milk and condiments
Then, it's time to make sure your guests have the right options of condiments and add-ons to pour into their choice of teas to sip.

While they are generally optional to blend in more zest into teas, it is still important – not to mention, thoughtful – to have lemon, sugar, cream, and milk within reach.
other beverages

Mocktails and cocktail plus a few bottles of champagne make for a great addition to your tea party menu. Don't forget brewed coffee as well.

Children tagging along with your adult guests?
Video credit: @carolineaton
Serve some fresh fruit juices or punch. Chocolate drinks should also keep the little ones happy and smiling the entire afternoon tea as you chat away with friends and family.

prep tips: put together that tea party like pro!

If not a general theme, at least, think of a color scheme that pops out when you and your guests set foot on your afternoon tea. You may choose to showcase décor whose hues rather evidently display the theme of the whole setup. Or you can pick a palette that's more subtle but still consistent in the wallpapers, choice of florals, tableware and dishware, and amongst the other elements that make up the entire arrangement. Either way, aside from having consistency, be certain to keep things easy on the eye and soothing to the soul. After all, relaxation is the purpose of this tea party you're putting in efforts to piece together.
If you're on a budget, try and pick the less expensive options between similar types of food. For instance, there are the raisin scones over the apparently pricier fruits and pistachio scones. You can also always consider sticking with the three classic tea sandwiches over the more expensive shrimp salad finger sandwiches. The trick is in the presentation – try and tweak the manner of presentation of these less pricey finger sandwiches. You can also have more of them and offset with the rest of the other sweets and savories.
Time is of the essence. So make sure you to squeeze in your schedule enough time to prepare especially the food. Choose to prepare food which can be preserved and refrigerated. In this way, you can make them ahead of time without having to worry about their becoming spongy and soggy which, of course, you wouldn't want to serve at your afternoon tea.
Finally, relax and take it easy. This doesn't have to be burdensome yet instead make the experience – from organization and preparation to the actual get-together – an awesome and memorable one by enjoying it every step of the way. And don't go for perfection. Success of your tea party doesn't depend on that. Simply put your heart into it and savor, not just the food 😉 but the process.

While we've just served you a hopefully helpful guide in organizing your afternoon tea, you can certainly add more and find the perfect teas and food pairings to satisfy your heart's desire, and of course, that of your guests. Otherwise, you can moderate and condense your menu. Either way, your tea party and tea party menu will surely be the unique and wonderful dream afternoon get-together that you've always had in mind.
For more tea party inspo, check out Kitchables on Pinterest.
Don't forget to "like" our Facebook page, too; tap on "follow" on our Twitter and our Instagram pages, and learn more about Kitchables and the tea accessories which we have to offer.
Header photo credit: @elizabeth.henson